FILM TO DVD/MPEG4 CONVERSION IN MELBOURNE – 8MM & 16MM FILM TO DVD AND MPEG4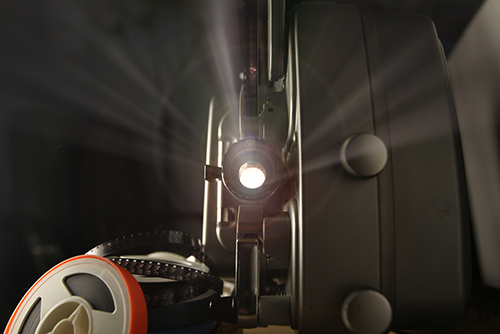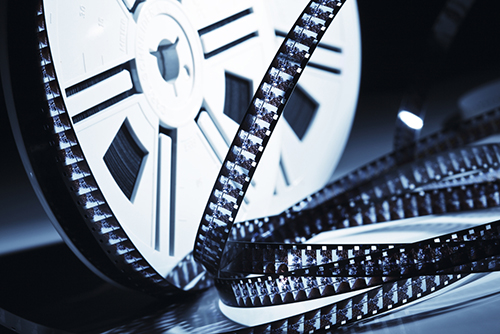 Edit 1 Video Productions can transfer your standard 8mm, super 8mm and 16mm movie film to DVD and/or editable video files such as MPEG4. We utilise a custom built digital telecine scanner system, which transfers standard 8mm, super 8mm and 16mm movie film to DVD, MPEG4 or any popular digital video format. Whether you need to transfer 8mm film to DVD/MPEG4 or you're looking for help with a 16mm film transfer to digital, we can provide assistance.
Our Equipment
Our telecine scanner unit is directly connected to a computer via a high speed USB 3 port. Teamed with specially created software, our system scans each frame of the film using a high speed shutter. This system is referred to as frame by frame scanning and is achieved using the latest high quality, High Definition Sony IMX (HD) image sensor. The end result of a 16mm or 8mm film conversion is a video file that's 100% flicker-free, no matter what the frame rate of the film is.
Be it in native High Definition (HD) or down converted Standard Definition (SD), the state-of-the-art HD camera sensor scans directly onto the film emulsion itself for the very best possible distortion-free image. Our scanner does not use mirrors or condenser lenses, which can distort the picture frames.
How It Works
The scanner's feeder and take up reels are precisely controlled by direct drive motors, ensuring the film's smooth, unhindered motion throughout its path during conversion of 16mm or transfer of super 8 to DVD. To further ensure the minimal handling of the film while the frames are being scanned, our scanner does not use sprockets, claws, capstans, pinch rollers, belts or gears. This film transport system has been trademarked as SafeScan, an edge of the film handling system that is unique to our telecine scanner.
Another trademarked component of the film transport system is termed Solid State Registration. Two precision LED sensors monitor the film's speed, and the on board processor controls the switching of the HD camera sensor, similar to how digital SLR cameras can photograph many images at high speed.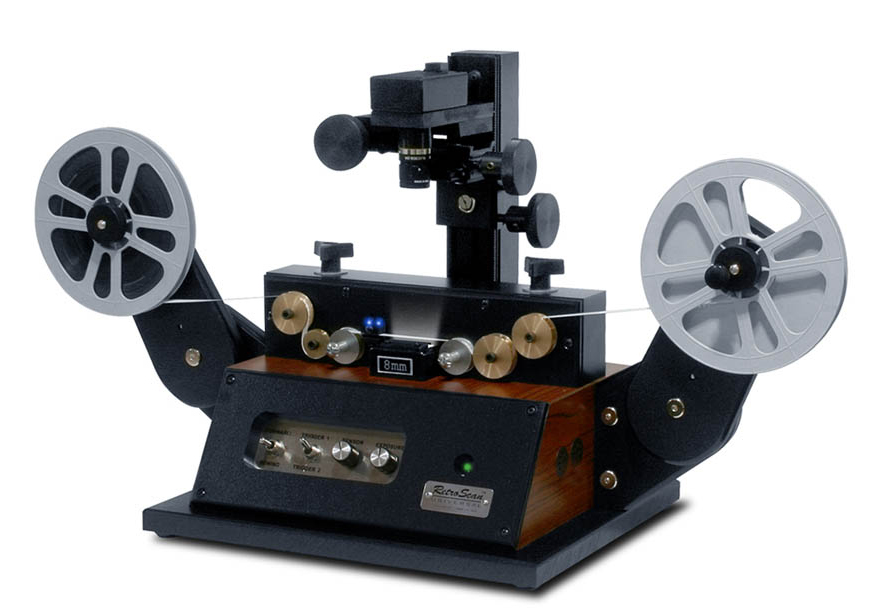 The scanner's high brightness, no-heat, neutral white LEDs light up the film's frames as it passes over the scanning area. A light diffuser ensures uniform brightness from corner to corner and edge to edge of each frame, without any hot spots.
Transfer Options
The telecine scanner's sensor scans each frame in full 24bit HD frames, and HD video files can be exported as 1080p or 720p with black bars on the left and right of the film frame. HD is 16:9 default aspect ratio, whilst the films are closer to 4:3 aspect ratio. Of course, the software also outputs in PAL (and NTSC) SD video files.
As the 16mm and 8mm film transfer scanner captures thousands of individual image frames, the software allows for outputting the film at its original recorded rate. Be it 16 frames per second, 18 frames per second or 24 frames per second - at any frame rate you require, the resulting video file will be 100% flicker free.
All of the above results in the highest possible quality digital reproduction of your 8mm and 16mm movie films at a very reasonable film to DVD/MPEG4 conversion rate.
For further information on film to DVD or MPEG4 transfer, please contact us.
Edit 1 Video Productions - everything in professional video communications